Just deleted Facebook messages on your Android device by mistake? And wondering
how to recover deleted Facebook messages
? If you don't know how to do this, you can read on to find out solutions.
On your Android phone, Facebook Messenger should be one of the most important applications you use to keep in touch with your families, friends, colleagues and so on. Sometimes it is an important app in a work environment and can even have important work messages. Many of us especially the young prefer to communicate via Facebook because it enables faster communication and ensures easier connectivity. Your conversations or chat history through Facebook Messenger could be valuable or memorable. But what if you delete some messages by mistake?
That could be extremely depressing and no one would ever expect to be facing this. But that just happens. Luckily you can still recover the deleted Facebook messages from the Facebook Messenger app or your Android phone. Now let's check how this can be done. Below I will share with you two tutorials on how to recover deleted Facebook messages.
Method 1: Recover Deleted Facebook Messages from Downloaded Facebook Data
Step 1 Log in your Facebook account on
https://www.facebook.com/
. Go to "Settings".
Step 2 Under "General Account Settings", you'll see "Download a copy of your Facebook data". Click the link.
Step 3 You'll be asked for the password. Enter the password and you'll be informed that an Email has been to your mailbox.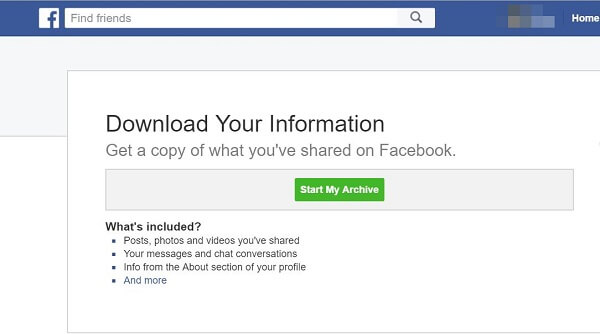 Step 4 Find the Email and click the link to download the archive.
Step 5 Click "Download Archive" and a zip file containing all your Facebook information will be downloaded to your computer.
If you have the copy, you can search the deleted messages from the files. Open the zip file and you should find a folder with HTML files. Choose the HTML file named as "Messages" and all your Facebook messages are presented.
Method 2: Recover Deleted Facebook Messages from Android Directly
To recover deleted Facebook Messenger messages from Android device, you will need to download and install the ES File Explorer app on your Android phone. And then you can follow below steps:
Step 1 Run ES File Explorer
Run the ES File Explorer app on your Android phone and then navigate to Storage/SD card > Android > data.
Step 2 Recover Facebook Messenger Messages from Android
Scroll down the page of data and find the folder "com.facebook.orca". Tap and open the folder and then open"cache" > "fb_temp". All of your Facebook Messenger backups are stored in the "com facebook orca" folder. Now you can recover the deleted conversations you need.