Hi there!
I encountered the following problem with the latest Eraser release using Windows 7 32-bit.
When erasing the recycle bin (right-click -> eraser -> erase), the task ALWAYS "completed with errors" like "Access to the path 'C:\$RECYCLE.BIN\S-1-5-21-3698056908-3583129372-3066424413-1000\$RGW46XJ\xxx' is denied." (there are a couple of such error log entries, but all are the same kind).
a second "feature" is, that when right-clicking on the recycle bin, the Eraser symbol shows twice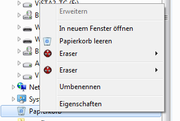 Any hint's how to get Eraser v6 working?
I'm going to install 5.8.8 and see whether this version checks out.
take care
[EDIT] 5.8.8 runs smooth as candy....at least there are no error messages displays.