The Recycle Bin remains one of the nifty features of Windows because of its ability to store deleted files. If you accidentally deleted a file, there is really no need to panic, because chances are you can find them in the Recycle Bin, where you can restore the said file. Android phone does not have this feature ready for the users to access immediately. But the feature can easily be added. And it is recommended that you have this special directory on your phone. In this article, we will discuss how to add recycle bin to an Android phone, so that you won't have to worry about deleted files and you can easily restore them.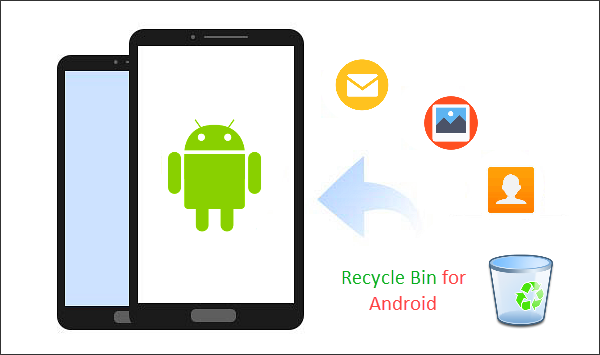 Get the Recycle Bin Feature on Android
The Recycle Bin is important because of its functions. It is a special directory in Windows computers that allows users to access deleted files, restore or permanently delete those files. Knowing that users delete files all the time, and users tend to get distracted easily and can mess things up, it is a surprise that Android did not integrate this kind of storage to their system. A lot of people delete contacts, messages, and files, accidentally. Most of them can be important especially for business and
emergency
. The only way to have a recycle bin in your phone is to download and install an app that functions the way the recycle bin does. There are a number of applications like this available in the Google Play Store. We will discuss some of the top recycle bin apps for Android.
1. Dumpster – Recycle Bin for Android
Dumpster boasts that it has over 20 million downloads and that it remains the best recycle bin app for Android. It offers a quick and easy way to recover accidentally deleted videos and photos. It enables users to undelete media files, applications, and other files. And not only that, but it also gives you the extra security and storage features to keep your files safe and secure.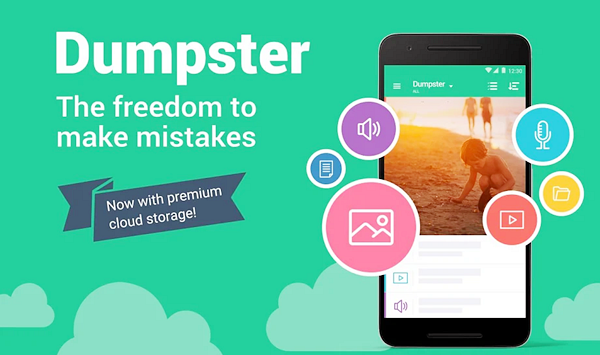 Here are some of the best features of this recycle bin app are the following:
Works fast and in seconds you can already restore your deleted files.
Retrieves different types of files including photos, images, and videos.
You can download the app for free.
The app also comes with an auto clean option.
There is support for 14 languages.
Users do not need the internet to be able to use it.
There is no need to root your Android device in order to install the app.
It offers cloud storage.
Allows users to customize the interface using the existing designs.
There are added features upon purchase of a premium account.
Basically, when you install Dumpster you are adding recycle bin storage to your phone. After installation, the app will automatically backup newly deleted files. If you accidentally delete them or need to retrieve the files it can easily be done. You can quickly restore them back to your phone.
2. ES File Explorer File Manager
Use ES File Explorer is a free, safe and easy to use file manager which functions like a recycle bin in Android. This app is ideal if you want or need to have the files on your phone organized properly. It supports different files including images, music, videos, documents, and apps. It also allows you to share files without having to pay for data cost. The app promises to provide desktop quality features for your phone.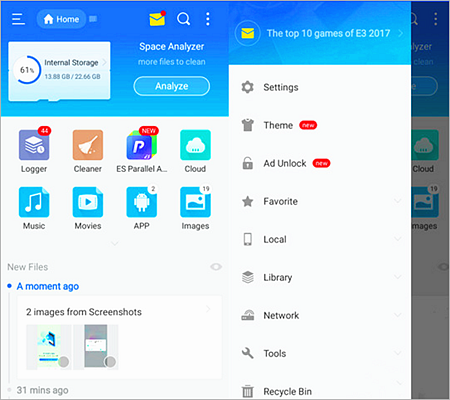 Here are some of the best features of this Android recycle bin app:
You can send apps, images, music, documents, movies and other files without the need of mobile data or cables.
Allows you to manage your files using the cut, paste, copy, rename and compress functions.
Comes with a built-in viewer for media files.
Comes with a built-in zip and rar to help you compress or decompress your files.
Provides cloud storage, supports Dropbox, google drive, Onedrive and other in order for the users to access the files anywhere.
Allows you to remotely manage your files through your computer, smartphone or other devices.
Provides an easy way for root users to manage their files including changing permissions of directories.
Helps transfer files using Wi-Fi.
Provides a library where files can be found in seconds.
Use ES File Explorer (File Manager) is the go-to app for people who want to organize their files whether those files are saved in the device's memory, SD card or cloud accounts. You can move, copy, rename, delete and share files making it a solution for people who do not want their files to be accidentally deleted.
3. Recycle Master – Back Up Deleted Files
Recycle Master offers to create a recycle bin in your Android phone. When you accidentally deleted an important file, you can count on Recycle Master to help you restore those files. So when you install this app, your files will automatically be backed up avoiding any accidental deletion of files. In case you delete a file you can find them through Recycle Master that also gives you the option to restore.
Here are some of the notable features of this recycle bin app:
Secure your files by locking the app using a password which is perfect for those who highly value the privacy of their files. This app allows you to set up a password that the user needs to enter before they can access the files.
Helps you clean your Android device from useless files. Users can also set up regular cleaning time weekly or monthly.
All features of the app are for free and there is no need to purchase premium version to use all of the features
Back Up Your Data and Keep It Safe
Disasters happen, people commit mistakes and mobile phones can sometimes fail. One of the ways to protect your data from accidental loss is to back them up regularly. There are many ways to backup your data. What happens when you back up your data is whether you delete the original file; you can use the backup file instead. Some experts even recommend multiple backups for highly important files.
Having a recycle bin app on your phone is key but in case you do not have the any of the applications we mentioned yet, there is still another way to retrieve your deleted files. There is software that helps you recover those files, such as
Gihosoft Android Data Recovery Free
. It offers a three-step process of restoring deleted files. After installation of the software to your computer, you can connect your Android device, scan the files you need and recover the file you accidentally deleted. This can be your best bet if you want to
recover deleted files from Android
.
WindowsFree DownloadWin Version
MacFree DownloadMac Version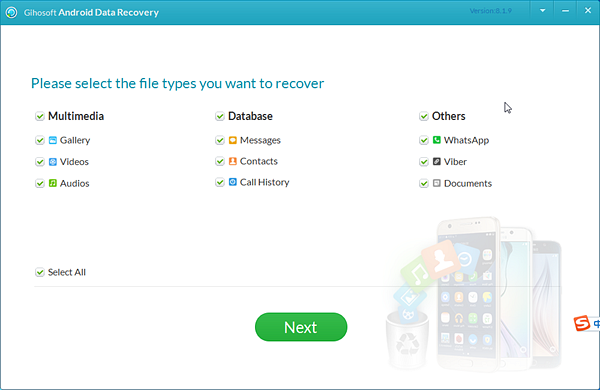 Our smartphones are extremely smart, they are designed for minimal failure and inconvenience to its user. Any of the recycle bin apps we have recommended are worth testing. There are many applications like them. However, the safest measure when it comes to protecting your data from accidental use is to always back up your files. If worse comes to worst, then there is always data recovery software you can rely on.